Growth in Health Care Straining In-House Medical Billing
Healthcare. It's an important part of each of our lives, and something that can only benefit our societies as more people gain access to quality coverage. As we move towards this goal, our communities will benefit from a better standard of living, improved care and more efficient payment methods.
All of these things are great, but the growth in patient volumes is having a negative effect on revenues for healthcare providers such as hospitals, clinics and general practitioners. Reductions in reimbursements and dramatic changes in the number of patients to serve has caused medical service providers to lose significant revenue, sometimes up to 25%.
Difficulties in Collecting Claims
What's causing these losses? Healthcare providers are having a hard time collecting money that is owed to them. As medical billing rules and regulations change, they are growing more complicated and difficult to understand for the average medical practice. In fact, existing billing systems for managing medical revenues are becoming increasingly obsolete due to this lack of knowledge and expertise within the medical industry.
Medical Billing Outsourcing as a Solution
To combat this problem, healthcare providers are turning to
professionals that specialize in medical billing
, also referred to as Revenue Cycle Management (RCM). This field actually comprises the most complicated and vital parts of the healthcare industry's IT business.
Due to an increase in new technology-based solutions, government regulations and growth in uncollected revenues, medical billing concerns are being outsourced by practitioners at a high rate.
In fact, the global medical billing outsourcing market was valued at nearly
USD 6.3 billion in 2015
and is expected to reach USD 16 billion by 2024.*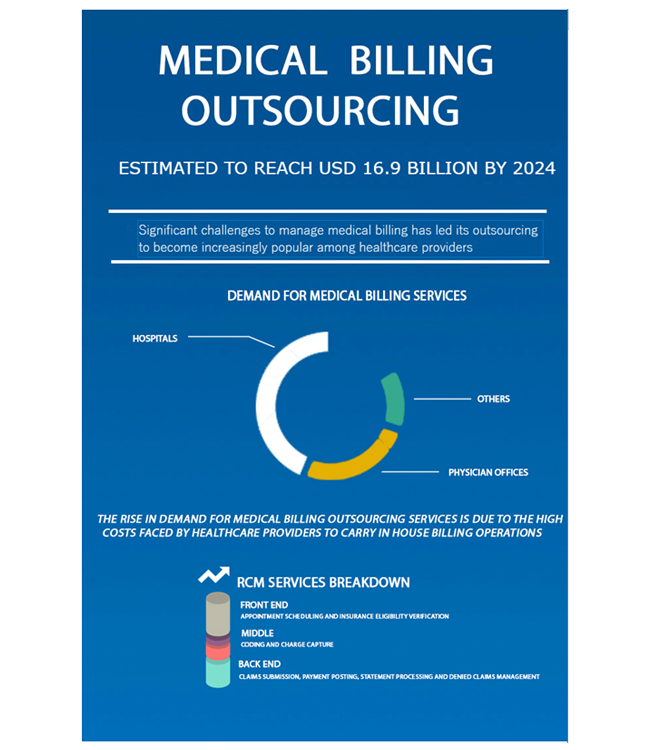 Difficulties in Medical Billing
Here are some of the most common challenges medical practitioners face when it comes to their billing cycles and revenue management:
Delays in reimbursement

Inaccurate patient information

Untrained billing employees/high-labor-cost

Increased legislative & regulatory pressure

Misuse of medical coding
Hiring in house staff can sound like a good idea but consider all of the above issues, it can actually become quite expensive. A medical practice would have to continuously pay for training its employees properly while also staying on top of changing regulations and coding requirements.
The Future of Medical Billing
Moving into the future, we will see a dramatic shift from in-house billing to the outsourcing of medical billing issues. More and more practitioners will choose to skip handling the complex process of revenue cycle management, and instead focus more on their own expertise of helping people improve their health.
This approach will undoubtedly lead to an improvement in patient service and care over the long-term. Additionally, medical practices can look forward to an increase in patient volume and revenues thanks to the influx of billing expertise received from their outsourcing partners.
To learn more about medical billing outsourcing and receive a free consultation, please contact us by using the form below.